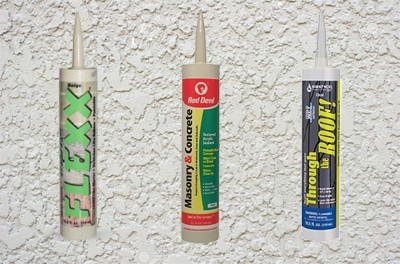 Top Stucco Crack Repair Sealants
In recent posts, we've established that stucco crack repair in a timely fashion will save you money in the long run. Doing stucco crack repair before they create increasingly more serious issues is certainly important, but there's a bit more to it. To do the job correctly the first time you have make sure you're using a quality sealer.
Before we get into the minutiae of the caulk for stucco cracks world, this article form thestuccoguy.com gives us a quick background of cracks:
Many homes that have stucco as an exterior coating have cracking issues, but most of them can be repaired quite easily. There are different kind of cracks that appear and knowing how to go about fixing them is half the battle.

There are different kinds of cracks, distinguished mainly by their size and pattern on the wall itself. One can determine the cause of the crack by looking at the wall's design, the size of the crack and the pattern.

These cracks are anywhere from 1/16 of an inch to 1/8 of an inch wide (typically) and are easily and effectively repaired using caulking and paint.
Fixing stucco cracks is not that difficult… But what's the point of repairing cracks in stucco, only to have to repair the repair? Below we've compiled a quick list of the top three sealers. The criteria by which we rated sealers emphasized cost, availability, overall practicality, and of course amazon.com consumer reviews.
Stucco Crack Repair Sealants
Mor-Flexx Caulk
Mor-Flexx is elastomeric with powerful adhesion. This means it stretches and won't tear, crack, or pull away. It Spans gaps up to 3″ wide with no slump. Textured and paintable, its easy to clean up with soap and water.
Through the Roof Sealant
Through the Roof is the clear, ultra-elastic sealant made to permanently stop and prevent roof leaks. It effectively seals around a variety of roof fixtures without the messy look of asphalt. Plus, Through the Roof won't dry hard and crack like traditional asphalt repair products and lasts 20 times longer. It expands and contracts with temperature changes, leaving you with a stucco crack repair that sticks but won't stick out. Lastly, in case you need to use it for surfaces other than stucco, it adheres to metal, plastics, asphalt, brick, ceramic tiles, concrete, stone, mortar, stucco, polyurethane, glass, terra cotta, cement, wood, cloth/canvas and polyisobutylene.
Red Devil 0646
Ideal for patching cracks in steps and sidewalks or repairing mortar between bricks, stone and cinder block. Red Devil's 0646 has a textured finish that blends with stucco and provides excellent outdoor durability. Ideal for exterior stucco crack repair use, it is also easy to clean up with water.
Now that you have a snapshot of what type of sealers to choose from for fixing cracks in stucco, below is a quick video tutorial to give you some sense for how to do this yourself and what stucco crack repair caulk to use. Sometimes, when it is a small and simple stucco crack repair, you can do it without hiring commercial stucco repair or residential stucco repair contractors:
Any remodel, stucco patch or any other stucco repair job is only as strong as its weakest element. There is little point in being frugal with your stucco repairs, only to compromise on quality and cost yourself more money down the line. By using a top rated sealer, and by adhering (pun intended) to a sound exterior stucco repair process, you can eliminate the need for stucco repair contractors, appointment windows, and have more time for other home renovations.
There are situations when you can not and should not do needed repairs yourself. For those times we wrote an article that talks about How to Choose the Right Stucco Repair Contractors. We think it will be great help to you and will shed a lot of light on how to hire the best stucco repair company for your project.
Also, please do not forget about maintenance for your stucco house. This article gives you some Exterior Stucco Maintenance Tips. And if you are not sure if you actually need to call stucco repair contractor to check out the condition of your home's stucco exterior in this article we go through Exterior Stucco Maintenance Tips.
Stucco Repair Pros of www.StuccoRepairJacksonvilleFL.com will be very excited to help you with any of your stucco crack repair projects or any other stucco repair needs you have. Please call our office at (904) 606-5353 to schedule a free quote or you can simply fill out our Estimate Request form on top right of this page. We will be very excited  to help you.